Live from The Netherlands
February 22
Oum
February 22, 21:00
Oum El Ghait Benessahraoui, who is better known as Oum, gives a unique glance at ethnic Morrocan musical esthetics. The singer-songwriter is considered to be the ambassador of Morrocan culture, too. Deeply influenced by gospel, jazz, soul and R&B genres, today Oum mixes more and more African music genres, such as Sufi, Hassani, or Afrobeat. Yet, the singer's voice still echoes the colours of Aretha Franklin, Ella Fitzgerald or Whitney Houston. It is the African American vocal tradition that made a huge impact on Oum since her early days as the singer. Performing from Music Meeting Festival in Nijmegen, The Netherlands, Oum charms the stage with an exotic sonic journey to the undiscovered lands of North Africa.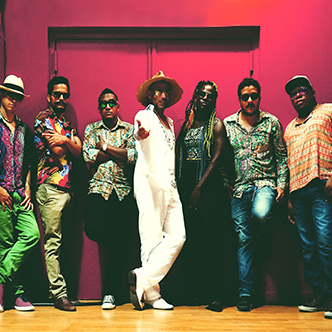 La Mambanegra
February 22, 22:00
The latin music orchestra, La Mambanegra, combines many musical elements, such as Jamaican or Colombian music, as well as Funk and Hip Hop. Yet, their main musical influence comes from 1970s New York, where during the time Salsa was born. The magic of the genre, however, is given new colours by La Mambanegra: with a series of fantastic adventures in Cali, La Habana and New York, the band's music is inspired by an anonymous and even mythical hero of the Cali's popular neighborhood Barrio Obrero. Consisting of 8 talented musicians, La Mambanegra presents their charming showcase at the Music Meeting Festival in Nijmegen, The Netherlands.
Altin Gün
February 22, 23:30
The group Altin Gün came to existence when bassist Jasper Verhulst made an inspiring journey to Turkey. After his show in Istanbul, he felt greatly attracted to the Turkish sound from the 1970s. With band members Ben Rider (guitar) and Nic Mauskovic (drums), he went looking for other Turkish musicians to join the band. Soon after, Merve Dasdemir (vocals) and Erdinc Yildiz Ecevit (vocals, saxophone, keys) joined the group. With the energetic Jungle by Night percussionist, Gino Groeneveld, the band was complete. During their 2018 show at BIRD Rotterdam, Altin Gün released their new album "On." Enjoy a new interpretation of Turkish traditional music, with a unique blend of Turkish folk, psychedelics, funk and rock. The show guarantees to make you dance around the campfire!