Skunk Anansie
November 10, 21:00
British alternative rock group Skunk Anansie celebrates its 25th anniversary with the album 25LIVE@25. These 90s rock scene icons, whose hair-raising shows have become legendary, celebrate their storied career with this 25-song project. With a selection of recordings taken from various 2017 live performances, Skunk Anansie once again proves its unbeatable power on stage. The setlist includes "Because of You," "The Skank Heads," and "Tear the Place Up." Don't miss the triumphant return of these pillars of rock to the stage of the 28th edition of Les Vieilles Charrues in Carhaix, France, in 2019!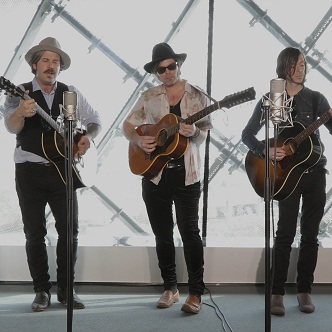 Sgt. Pepper Tribute
November 17, 21:00
Celebrated as one of the most influential albums of all times, The Beatles' 1967 Sgt. Pepper's Lonely Hearts Club Band marked its time and inspired generations of artists. While the album was purely a recording studio product, Beatles' fans continue to be frustrated by not hearing it live. British musician and composer Ed Harcourt, author of six highly acclaimed albums and collaborator of vocalists Marianne Faithfull, Patti Smith, and trumpeter Erik Truffaz, gathered a supergroup for this occasion with top artists from the British independent rock scene. Join Ed Harcourt and members of The Libertines, Supergrass, The Coral, the Beta Band, and Primal Scream for this special tribute.
The Libertines
November 24, 21:00
Firstly, there was a successful reunion on stage at Leeds and Reading in 2010, then a concert at Zénith Paris, and not a single listener was left untouched. After playing Glastonbury and other summer festivals, the English rock band The Libertines are definitely back with their album Anthems For Doomed Youth. With this new tour de force, the group (with original members Pete Doherty, Carl Barat, John Hassall, and Gary Powell) opens a new chapter in history. Anthems For Doomed Youth, highly acclaimed by the press, is their first since their studio album Libertines, now a British rock classic, topped the charts back in 2004. Join this legendary foursome at the Olympia in Paris for an evening of pure rock!